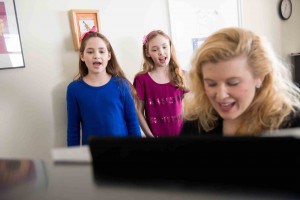 Students who choose to take voice lessons at Larchmont Music Academy are in for a treat. Voice teachers are offered for all styles of music, from opera to musical theater, rock and pop music to jazz voice; we have it all.
Private voice lessons can be supplemented with one of our vocal choirs, jazz ensembles and/or rock bands.
We offer a songwriting workshop for those students who wish to write their own music and songs.
Each semester students compete in the Larchmont Music Academy Composition Competition.
"At Larchmont Music Academy, the vocal faculty strives to nurture the individual voice of each unique student who comes through our door."
"Vocal lessons at Larchmont Music Academy serve to enhance each students sense of self. Singing classical arias, jazz, pop, and a variety of other genres creates a fun and uplifting environment in which to learn vocal technique, while brightening your day as well."
- Sarah Charles, LMA voice faculty