Ensure Your Child's Success with an Instrument from LMA!
Welcome to the LMA Rental Program! You have just taken the first step to ensuring your child's success in band or orchestra. Your child's success depends on having a quality instrument in proper playing condition that will make it easier for your child to learn, progress on and have more fun. An instrument rented or purchased from Larchmont Music Academy will provide years of enjoyment and reliability.
The Most Inclusive Instrument Rental Program –
Only from Larchmont Music Academy
We are pleased to offer our musical instrument rental program powered by NEMC. Through this program, we are able to offer the benefit of personalized service right in your community that is backed by a national company. We provide you access to the largest inventory of teacher-approved quality musical instruments in new or like-new condition such as trumpets, clarinets, trombones, flutes, saxophones, violins, violas, cellos, percussion and many more. Click here to rent your instrument!
Included in your Larchmont Music Academy rental: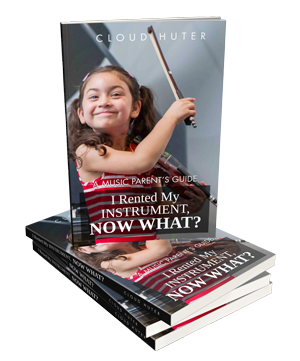 LMA Exclusive: Printable cheat sheets designed just for you, to help your child succeed!
LMA Exclusive: A FREE, in-person lesson at Larchmont Music Academy with an expert instructor, valued at $74. (While time slots last. Once all times are gone, they are gone)
LMA Exclusive: Email support and video demos from Larchmont Music Academy expert instructors to help get you started.
LMA Exclusive: The indispensable ebook, I Rented My Instrument, Now What? By Cloud Huter - The Music Parents Guide to musical success in 10 minutes a day!
LMA Exclusive: The expert instructors at Larchmont Music Academy with you every step of the way to make sure your child gets the most out of their instrument.
Professional mouthpieces with every wind instrument.
Authenticity of new instruments is guaranteed.
All routine service at no additional cost - FREE.
Less than full size stringed instrument rentals can have accumulated credit toward the exchange to a larger size of comparable make, quality and kind at any time during or after the rental term.
Equity towards purchasing the instrument being rented or another model.
An early purchase option may be exercised at any time.
No obligation to buy and the full option to return at any time.
To learn more, check price and availability, or reserve an instrument for free delivery or pickup today:
Piano Rental:
We also offer a referral service for piano tuning, rental and purchase. Please call 914-833-8941 or send us an email for more information.
Instrument Purchase:
All instruments are brand new, and we carry only the finest brands available. All instruments are backed by the NEMC 3-7-10 warranty. To purchase an instrument please contact the Academy for pricing and brand information.
Lessons:
Studies show that music lessons improve test scores, boost brain development, help students gain confidence, improve literacy and mathematical skills, and above all expresses the emotions...... Sign up for lessons now.
Elementary NYSSMA and all-county band and orchestra prep is available.