Brass Lessons and Virtual Brass Lessons
"When a student studies a brass instrument at the LMA, they learn what it takes to set a goal and achieve it. They learn leadership, time management and problem solving skills but, most importantly, they have fun."
- Tristen Napoli, LMA Brass Faculty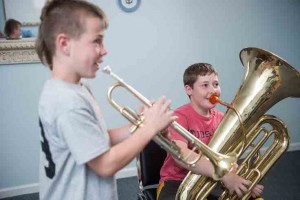 Larchmont Music Academy offers lessons on all brass instruments. From trumpet to trombone to tuba, lessons at LMA are fun and engaging. Classical, jazz, and commercial brass playing are all offered as fields of study. Each student's full potential is realized with preparation for band, jazz band, All-County, All State, and many other performances.
LMA brass faculty guide each brass student to find an optimal aperture and develop a strong embouchure. These, along with strong reading skills and controlled breathing, form the foundation for strong brass technique.