Cello Lessons and Virtual Cello Lessons
The cello is a beautiful, powerful instrument. Its soaring high notes and rumbling bass tones are legendary. Cello lessons are the best way for student to learn how to make the cello sing.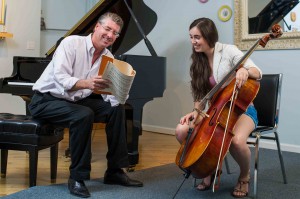 At Larchmont Music Academy, our faculty promotes the well-being of our students by instilling the fundamentals of first-rate technique, healthy playing and musicality. Correct bow hold, left hand position and proper posture are learned from the very beginning, to be sure the foundation is laid for continuous success. With our conscientious faculty, LMA customizes and creates introspective lessons to help our students excel and master their instrument.
Our private cello lessons equip our students to be prepared for a variety of occasions. From solo recitals to orchestras, our private cello lessons give our students the confidence and knowledge that they need to perform well. Sight reading, rhythmic accuracy and tuning are some of the invaluable individual work that we review and teach our students.
Outside the practice room, playing in an ensemble can be one of the most rewarding experiences in playing music. By performing with others, students work on their musical and verbal communication skills and build their abilities to observe and absorb their surroundings. Private cello students of all levels at LMA are encouraged to join one of our many chamber groups, including our Academy Symphonia that performs in Carnegie Hall every year. Taking lessons at LMA also affords students the opportunity to prepare for Westchester All-County, NYSSMA, All-State, and recorded college auditions with our outstanding faculty.
From the practice room to Carnegie Hall, students who take private cello lessons at LMA have the chance to bring the power and beauty of music with them wherever they go.