Clarinet Lessons and Virtual Clarinet Lessons
The clarinet is a woodwind instrument with a diverse range of timbres and possibilities. With its warm and dark tones and its sweet and bright colors, the clarinet can be found serenading people all over the world. Taking private clarinet lessons is an excellent way to help one tap into this vast potential of self expression.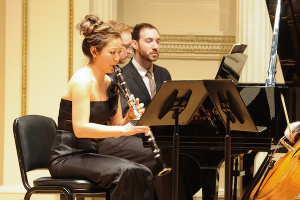 At Larchmont Music Academy, we begin with the fundamentals of first-rate technique. Our faculty ensures that each clarinet student has the information that they need to flourish at their instrument. Great embouchure, proper breathing and correct fingering are some of the basic techniques that we instill in our students from the beginning. With our interactive methods and personal approach, we create engaging lessons as our students grow and master their instrument.
Taking private clarinet lessons at Larchmont Music Academy also affords students the opportunity to prepare for Westchester All-County, NYSSMA, All-State, and recorded college auditions with our superb faculty. The confidence learned through solid playing and sight reading under audition circumstances is an invaluable skill that takes insight and experience. The faculty at LMA takes the time to reveal these effective methods for successful auditions and performances, and to help ensure success in every aspect for musical development.
As a clarinet student at the Academy, you may join one of the many chamber and wind ensembles at our school, and get the chance to play with your peers. Communication and teamwork is a large part of creating music and is an immeasurable skill that translates to everyday life.
With so many opportunities, Larchmont Music Academy is a fabulous place to take private clarinet lessons in Westchester County.