Flute Lessons and Virtual Flute Lessons
Taking flute lessons at Larchmont Music Academy is an exciting adventure. Claudia Huter, flutist and director, has created a vibrant and full life for flute students of all ages and levels. Young students can begin their flute lessons on special curved headjoint flutes, designed specifically for the smaller student.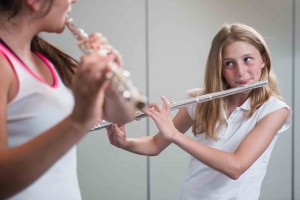 Private flute lessons are important to be successful in band, jazz band and orchestra. In addition, taking flute lessons at Larchmont Music Academy affords students the opportunity to prepare for Westchester All-County, NYSSMA, All-State, and recorded college auditions. LMA offers many performing opportunities throughout the year, as well as community service and outreach programs.
As a flute student at the Academy, you may join one of the many flute quartets and the Academy Flute Choir. The Flute Choir is made up of students of all levels and ages. Up to 30 flutists join together to make beautiful music, performing at Carnegie Hall, fundraisers and charity events, and many different concerts and outreach for the community. Members play the traditional c flute, piccolo, alto flute, bass flute and the amazing contra-bass flute. Flute Choir is a fun chance for students to learn from each other.
With so many different ways to play the flute at LMA, Larchmont Music Academy is best place for students to learn the flute in Westchester.
"It is amazing to watch the effect flute lessons have on a child's life. From the moment they make that first tenuous sound, their eyes light up with joy and their confidence begins to grow. As they attain mastery of their instruments, both in lessons and in ensembles, each child and young adult gains skills that they will use forever, both in music and in life."
- Claudia Huter, LMA director and faculty