Percussion Lessons and Virtual Percussion Lessons
"Rhythm is one of our oldest languages and most universal forms of communication. I notice that most students connect with this idea almost instantly. Through the study of drums and percussion, they deepen their understanding of rhythm, styles, and techniques, while also gaining confidence and thoroughly enjoying the process."
- Brian Adler, LMA percussion faculty
"Drum lessons allow students to investigate and explore music from many angles. I love creating spaces for each student to find their own voice through the world of rhythm. Basic to advanced musical knowledge and drumming skills must be learned by every drum student. There are no short cuts for hard work...but who says you can't have fun on the way?!"
- Devin Gray, LMA Percussion Faculty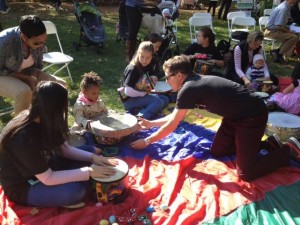 Students learn rudiments, ear training through recognition and internalization of rhythms, sound production, technical efficiency, improvisation, the lineage and history of the drums, as well as how to practice. LMA Faculty carefully guide each student to his or her highest potential while having an incredible time drumming and making music. Every drum lesson is constructed to cultivate technique and enjoyment of the instrument. Drum lessons are critical to success in concert band and jazz band in the school setting. LMA percussion teachers prepare students for school auditions, All-County, All-State, and college recordings.
Percussion ensembles and rock bands are a terrific way to compliment drum lessons. Students have fun learning to play together, develop listening skills, musicianship and discipline. Each month faculty and students are invited to perform at Watercolor Cafe in Larchmont where they can excercise their skills in front of a live audience and in the comfort of their peers.
"Jazz improvisation studies continue to challenge students, and increase their knowledge of music history. I highly recommend every student of music take ensemble classes to increase their music making skills. I enjoy encouraging students to increase their awareness of modern music through real time jazz and improvisational situations with peers."
- Devin Gray, LMA Percussion Faculty