Saxophone Lessons and Virtual Saxophone Lessons
"Learning and playing saxophone will open the mind of any student! Jazz improvisation is composition in the moment. It requires listening, responding with imagination, as well as developing technique on your instrument. Jazz is about showing us the importance of our individuality while being able to make others around us, our fellow bandmates, sound great!"
- Lucas Pino, Jazz Woodwind and Piano Faculty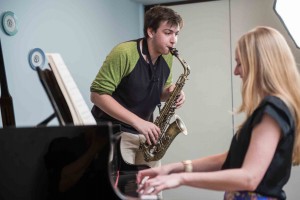 LMA woodwind faculty teach saxophone lessons on soprano, alto, tenor and baritone saxophones in both classical and jazz genres. Saxophone lessons are crucial to success in school concert band and jazz band. LMA faculty guide each student to his or her full potential and help prepare them for middle school and High school jazz band auditions, All-County and All State auditons and college application recordings.
LMA saxophone quartets and jazz bands are a wonderful and fun supplement to saxophone lessons. Student ensembles perform regularly throughout the semester at Watercolor Cafe, local libraries, nursing homes and student recitals. Students can even audition for the Carnegie Hall Honors Concert.