Trombone Lessons and Virtual Trombone Lessons
"When a student studies a brass instrument at the LMA, they learn what it takes to set a goal and achieve it. They learn leadership, time management and problem solving skills but, most importantly, they have fun."
- Tristen Napoli, LMA Brass Faculty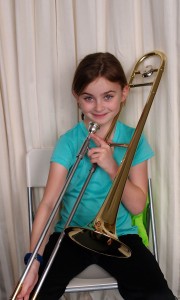 Learning the trombone opens up many possibilities of expression. From large wind ensembles to practice rooms and jazz combos to orchestras, the trombone is a widely-used instrument found in all of these places. By taking private trombone lessons at Larchmont Music Academy, our students are given the tools that they need to pursue these artistic opportunities.
We begin with the foundations of strong technique. All of our private trombone students study basic intonation, slide maneuvers, controlled breathing and sight reading. By paying close attention to our students' abilities in these areas, we help mold them into competent musicians, and help guide their work ethic and awareness toward success.
Our fun yet educational private trombone lessons help prepare our students for a variety of occasions such as school auditions, jazz band, Westchester All-County, All-State, and many other performances. Students are also encouraged to make music with their peers at the Academy, and are offered more performance opportunities within our wind, brass, and chamber ensembles.