Trumpet Lessons and Virtual Trumpet Lessons
The trumpet has been serenading people for centuries. From jazz bands to orchestras, learning the trumpet opens up many outlets of self-expression. Taking private trumpet lessons at Larchmont Music Academy is a fantastic way to tap into this potential.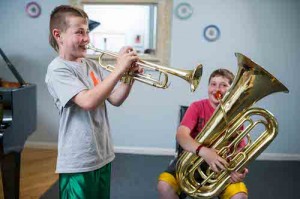 At Larchmont Music Academy, our trumpet students are taught the foundations of superior technique while being offered diverse levels of engagement. We take the time to go over the starting point of excellent technique, such as embouchure and breathing, to help them find their own way to produce great tones and articulation.
Learning the trumpet opens up many possibilities of expression in large and small ensembles. Our fun yet educational private trumpet lessons help prepare our students for a variety of occasions such as school auditions, jazz band, Westchester All-County, All-State, and many other performances.
Students are also encouraged to make music with their peers at the Academy, and are offered more performance opportunities within our wind, brass and chamber ensembles. By actively playing with their peers, LMA trumpet students are able to work on their musicality and endurance simultaneously. Trumpet lessons at Larchmont Music Academy give your child the opportunity to excel greatly within the practice room and in the outside world.
From classical playing to jazz methods, LMA trumpet students have the chance to grow vastly with the guidance of our intuitive and nurturing faculty.