Tuba Lessons
At the base of many orchestras and bands lies the tuba. The role of the tuba player is prominent as a supporting member who helps lay the structure for the entire ensemble. Taking private tuba lessons is a fantastic way to learn how to master this instrument and role.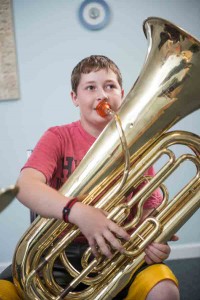 At Larchmont Music Academy, our faculty promotes the well-being of our students by instilling the fundamentals of first-rate technique and musicality. Proper embouchure, correct breathing, thoughtful exercises, and efficient fingering are some of the practices and techniques that we teach our students from the beginning of their lessons. By laying down the foundation of excellent technique and methods, our tuba students have the fundamentals that they need to excel at their instrument.
Aside from the technicalities of performance and musicality, learning the tuba can teach one responsibility and time management. The tuba is an instrument that is frequently used in large ensembles and often carries the bass or root of the chord. Imperative to the structure of a piece of music, a tubist learns about dedication to a group and ensemble, and the discipline that it takes to succeed in any given field. From the discipline learned by practicing and honing skills, through emotional expression and even mathematical and linguistic improvements, music lessons have a profound affect on a student's life As a tuba student at the Academy, you may join one of the many chamber and wind ensembles at our school to get first hand experience learning these responsibilities while under the guidance of our experienced faculty.
Taking private tuba lessons at Larchmont Music Academy also provides students the opportunity to prepare for Westchester All-County, NYSSMA, All-State, and recorded college auditions. Our outstanding faculty at LMA help guide our students for these events by teaching them superior performance techniques and useful skills such as sight-reading and accurately playing scales. The poise and confidence acquired through audition season are useful and can be applied to various circumstances.
Learning the tuba at Larchmont Music Academy is a wonderful way to enrich one's life.