Violin Lessons and Virtual Violin Lessons
"The violin is an amazing instrument to learn to play. Private violin lessons are crucial to success on the instrument because of the amount of individual attention needed to ensure proper technique from the very beginning of study."
– Nicole Sharlow, LMA string faculty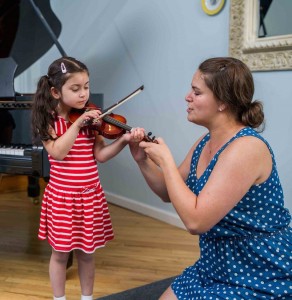 Our faculty ensure that each violin student has the tools they need to succeed. Correct bow hold, left hand position and proper posture must be learned from the very beginning, to be sure the foundation is laid for continuous success. Fun and creative lessons engage children of all ages, as they hone their skills and grow musically.
We rent instruments of the highest quality, from the tiniest 1/32-size through full-size violins. Teachers work with students to be sure that their instrument is the correct size and in the best condition for each child.
Violin lessons are a wonderful way to ensure success in orchestra. The confidence learned through individual work on orchestral music, as well as practice in note reading, rhythms and preparing solo repertoire, is invaluable.
Teachers prepare students for Westchester All-County, NYSSMA, All-State, and recorded college auditions.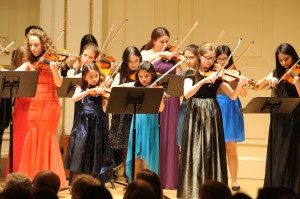 Ensembles are a terrific way for students taking string lessons at the Academy to explore music, working together, and the joy of making music in a small group. Each student is placed based on age and level. All students of every level are invited to experience the excitement of playing in a larger ensemble by participating in our Academy Symphonia. Being part of a large group that makes such a resonant and harmonious sound is truly a thrilling experience!
Academy Symphonia is a great way to have fun with your peers while making music, learning leadership skills and learning to blend your sound with other players. This exciting group offers many wonderful performance opportunities at local venues, as well as a yearly performance at Carnegie Hall!